Bendigo Colour frenzy is Coming!
October 16, 2022
Colourful fun in Bendigo in 2022!
Looking for the best things to do for kids in Bendigo? In fact Colour Frenzy is ideal for people of all ages and abilities. Our fun run events are great for birthday parties, work functions, family fun days, dates & mates. You'll collect memories that last a lifetime.
Our Bendigo event is going to be a a lot bigger this time with the addition of our foam machines, new stations, obstacles and more.
You can walk, jog, skip, hop or run with friends and experience the perfect combination of fun, excitement, laughter and colourful clouds of happiness.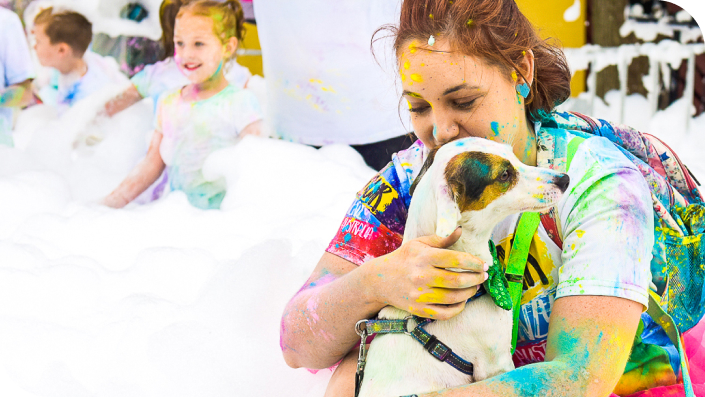 Colour Frenzy's fun things to do for kids in Bendigo
Free giveaways
Free professional photographer
Kids under 5 for 5!
Tickets available in 2022!
Reviews

Jessica
Positive: Value
What a fantastic experience! Fun for the whole family or just friends. It was easy & lots of laughs. Perhaps more obstacles next time but thoroughly enjoyed it & look forward to doing it again in the future.

Naomi Grayson
Positive: Professionalism, Quality, Value
The Sunshine Coast Coliur Frenzy was my first and it was amazing. I took my 1 yr old daughter and she just had an absolute blast. Loved that it was so family friendly, outdoors and even the little bit of rain made it all that much better. Will definitely go again.

Amber Hagarty
Positive: Quality, Value
We had the most amazing time doing the mothers day colour frenzy. It was fun, kid friendly, pet friendly and of course colourful. Great atmosphere, so much laughter. Will definitely be returning next time. Thankyou for the awesome experience!

Tamika MacGregor
Positive: Quality, Value
This was the second colour run I've been to in my life and it was even better than the first one I attended! The event coordinators and volunteers knew how to keep the crowd engaged and had as much fun as we did I think! Loved the enthusiasm, foam pit, obstacles and the colour. Such an awesome way to spend a Sunday morning and all for a great cause.
Bendigo event info
The event will be held in October 2022 and will be located at Strathdale Park, Bendigo.
Fun run Race Packs
Get prepared for your fun run and stay ready with all of the right gear you need to complete the course. Race Pack collection commences on Saturday the day before the event, find out more here.
COVID-safe fun run
Our fun run warm-up starts at 8:15am for all participants. Get coloured and then head off with rest of the group!
We'll be sending out small waves of approximately 250 people every few minutes.
Walk, skip, run or crawl
Complete the course at your own pace and choose the distance you want to run; our fun run is untimed. You can walk, jog, run or even crawl your way around our laps, over 80% of people walk!. There's absolutely no pressure!
Bigger & better then ever
There's a lot more excitement in our future fun runs and they're even bigger than our last events! Games, prizes, giveaways, Small Colour Frenzy marketplace, food-trucks and more!
Companion cards (free!)
The Colour Frenzy fun run is disability friendly, meaning all carers for disabled or all ability atendees who are holders of Companion cards can attend for free when helping a ticket holder with disability. We love to get everyone in the community out having fun!
Race Pack Collection
Race pack collection is between 8am and 2pm on Saturday the 15th of October the day before the event at Strathdale Park, Bendigo.
Join Our VIP Colour Frenzy Newsletter